James Hodge Hyundai offers online pre-approval for auto loans in Muskogee, Oklahoma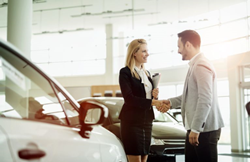 MUSKOGEE, Okla. (PRWEB)
July 15, 2022
Getting approved for a car loan may not be as easy as it seems. People from different backgrounds have varying credit histories, which affects their pre-approval process. Customers near the Muskogee area of ​​Oklahoma can now get pre-approved online for vehicle loans at James Hodge Hyundai, a local car dealership.
James Hodge Hyundai offers a simple online car finance process to ensure a smooth car buying process and save a lot of time. Potential buyers can visit the dealership's official website and complete a simple credit application form. As James Hodge Hyundai's finance team has partnered with several financial institutions and lenders, it helps them get credit approval for most customers regardless of credit scores. Once the application is submitted, a member of dealership staff will contact the applicant to guide them through the process.
Interested parties are invited to visit James Hodge Hyundai at 1330 North Main Street, Muskogee, Oklahoma 74401. Drivers may also contact the dealership's customer service team at 833-331-0067 for further information or inquiries. information.
Share the article on social networks or by e-mail: